Trust the Jamison Sump Pump Geeks to keep your sump pump running effectively!
Our 12-point inspection process keeps your sump pump running right!
The "heart" of your system installed to protect your basement or crawl space from getting wet is your Sump Pump. Rainstorms and unpredictable flash floods can cause basements and crawl spaces to flood, and mold to grow. Don't neglect your sump pump, call the "Sump Pump Geeks" today to make sure your system is ready for the next rainfall! 
Our 12-Point Inspection Process
Clean Sump Liner(s)
Clean Pump(s)
Inspect Check Valve
Replace Alarm Battery
Inspect / Clean Ports
Check DownSpouts
Water Test Pump / Switch(s)
Check / Flush Discharge Line
Check / Test Backup Battery
Flush System / Flood Test
Inspect Foundation Exterior
Check Voltage on Battery Backup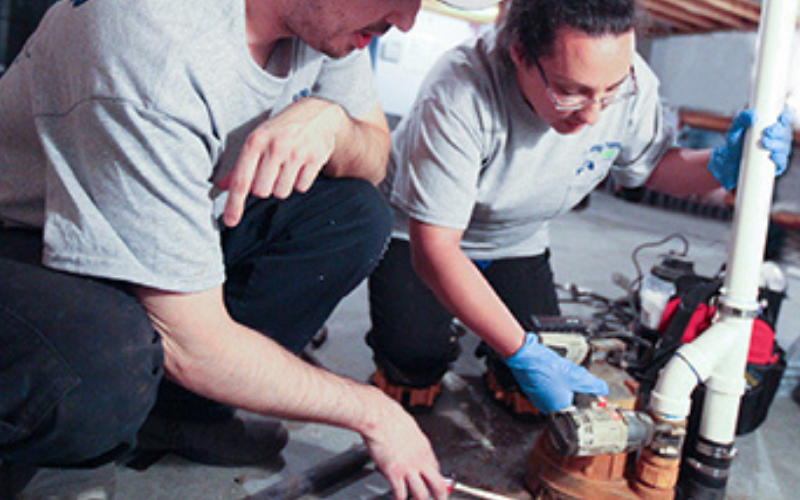 To keep your basement and crawl space protected Sump Pump Manufacturers recommend periodic sump inspection and maintenance, to ensure proper operation year-round. We offer Service and Maintenance Packages that are sure to fit your needs and budget.
Why Choose The Jamison Sump Pump Geeks?
All of our geeks are trained under expert supervision and certified by Sump Pump Geeks Basement University.
We are your local sump pump repair expert that specializes in all sorts of sump pump repair, and installation services.
Our 12-point inspection process will keep your sump system in healthy, good working condition and help prevent your basement from suffering serious, long-term and expensive damage.
Over 30 Years of Expert Service!
We are your local Sump Pump Geeks, serving the Greater Philadelphia area providing solutions engineered specifically to solve basement water problems for good.